The entire side of my family decided to get together for a week-long reunion on the beach during the summer. My family is big, so we had to rent out a few large beach homes with 7 bedrooms per house. We were right on the beach and it was absolutely a beautiful location and view! 🏖
After a few days of non-stop family, the beach and relaxing, I was in the mood for a little fun of my own! I figured there might be some lonely hot guy on vacation too looking for some fun! So, I hopped on the SLS Lifestyle website changed my location and set up a "Hot Date".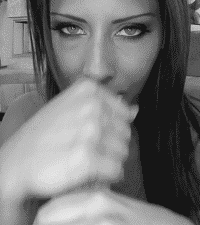 Within a few minutes of my "Hot Date" post, I had many replies but this one guy, Todd, stood out! He was a local, owned a nice restaurant in town, had a great body and "you-know-what!"🍆 After exchanging a few messages via SLS email, I felt comfortable enough to give him my cell phone number. He was just the right amount of flirty and the right amount of gentlemen! Todd invited me down to his restaurant so we could meet. I felt very comfortable with that because it was in a public spot, and he was also well known in the area. Yep, I looked him up online, as I always do before meeting someone! 🧐
I told my family that I was going to run to the grocery store to get a few things, and luckily, none of the other women said they needed to go to. I left by myself wearing a little sundress which happened to have a lot of cleavage, some high heel wedges and my beach tan was on point! I finished my makeup in the parking lot and went in. It was a small restaurant with full views into the kitchen, so as soon as I walked in I caught eyes with Todd. He immediately stopped what he was doing in the kitchen and walked over to me. He had a semi-private table ready for us, and we sat down. He told me I was prettier in person than my pictures, and we had some amazing conversation that never had a dull moment. Needless to say, we had a lot of fun chatting, flirting and really had a great connection from the start but he had to get ready for the dinner rush; since they were in peak season. We agreed to meet later that night on the beach around 10pm.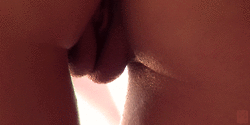 Unfortunately, things were crazy at the restaurant that night, and he didn't get out of there till around 11:30pm. That night at the beach house was family game-night. Everyone was drinking, playing games and having a good time. Once I heard from Todd that he was leaving the restaurant and had to run home to shower, I excused myself from the games, said I was tired and going to bed. I went back to my room, freshened up and snuck out the back door to meet Todd on the beach. He told me to meet him at a particular lifeguard stand, which are numbered. I got to the lifeguard stand first and waited. My heart was beating hard because of my excitement. I absolutely LOVE the first date jitters and anticipation of the unknown! 🤭
Todd arrived and we walked the beach together, talking, holding hands and some kissing under the bright, full moon. It was so romantic. During our walk, I texted my husband and asked him to set up a blanket underneath the lifeguard stand so Todd and I could chill together. My husband obliged, grabbed a blanket and set up for us.
Todd and I arrived back to the lifeguard stand, laid down, looked at the stars and it didn't take long for him to have his hands all over me. And yes, of course down my pants. ☺️😍😇 He rubbed my tingling pussy right over my panties, exactly like I like! I was so turned on, I could barely contain myself. Todd, lifted my little sundress, removed my panties and started to devour my soaking wet pussy! He licked me softly and teased me until I couldn't wait any longer. I pushed him off of me, put him on his back, took off his shorts, and WOW, his cock was just perfect. It was perfectly thick and not too long, just the way I want it! I started with licking his balls and slowly moved up to his shaft and teased him with my tongue. He was squirming and wanting more then I swallowed his cock in full. He let out a big moan when I did that and started moving his hips. I blew him for awhile but my tingling pussy was absolutely dripping and needed to be fucked. I reached for the condom, put it on him and crawled up, started kissing him and asked him if he wanted to be inside me. He said, "FUCK!; YES!, PLEASE!!!". 🙏🏻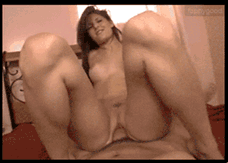 I teased his cock with my clit and then just slide the tip inside of me. Oh, it felt so good! I slowly worked his thick cock all the way into me and rode him on the beach, under the stars and bright moonlight. It was absolutely amazing; his cock was just perfect! It literally made me squirt on almost every deep thrust. After a few minutes of riding, he flipped me over, doggie-style (my favorite position). He took a few pictures of the view for himself and my husband. He then slapped my ass and pounded me until I came multiple times! I fucking completely soaked the blanket! When he was about to cum he asked me if he could "cum on my beautiful tits" and I said, "hell yes!". He continued to pound me, and I felt he was close; he then ripped off his condom, flipped me over and unloaded a massive load all over my big tits! It was so much cum; it just kept coming and coming out of his thick cock! Once he was done icing my huge tits, I slowly and softly sucked his tender cock and made him twitch with every movement, until he pulled away because he couldn't take it anymore. 🤗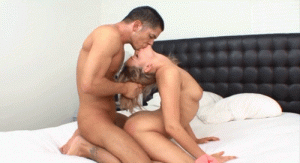 We ended up laying there for a while, snuggling, talking and kissing. By this time, it was very late, and we were both exhausted so we decided to call it a night. We got up and went our separate ways on the beach.
On my walk home, I ran into my husband and started to share with him my hot experience; he informed me that he watched the entire fuck session from behind a sand dune. That immediately made me so wet! We grabbed the soaked blanket, rushed back to the beach house, snuck back into the bedroom, he threw me on the bed and he told me to replay exactly what happened on the beach. I told him to lay next to me and to rub my pussy over my panties, just as Todd did. I continued to instruct him to do exactly what Todd did to me. My husband ended up fucking me so hard I could barely keep quiet as I came, even with my head buried into the pillows. He also blew a huge load over my tits, just like Todd did a few minutes before. It was all so hot! 💦💦💦
I hope to have sex on the beach again soon! I've been trying to plan a weekend to visit Todd alone. I wonder if we'd be able to duplicate the intensity from that night?
Still to this day, that night shares my "#1 Best Night Ever" so to get laid tonight join BRITISH SEX FINDER the best adult dating site in the UK.
---